Skip to Main Content
It looks like you're using Internet Explorer 11 or older. This website works best with modern browsers such as the latest versions of Chrome, Firefox, Safari, and Edge. If you continue with this browser, you may see unexpected results.
I have a citation...now what?
Many times you may already have a citation for the information you need, but the tricky part is getting the full-text of that information. Finding the full-text is made even trickier due to the multitude of different citation styles (APA, MLA, Chicago, ACS, etc.). Do not worry; the libraries are here to help! From books to journal articles to dissertations and more, we can help you get what you need.
How to Identify Parts of a Citation
Not sure what information would best help you when trying to track down a full-text? Here are some general tricks that work across various citation styles to help you determine the source format. If you're still not sure, ask a librarian or the Interlibrary Loan Department for help.
If there is a location followed by a colon AND/OR a state/country, the citation is usually a book.
If an editor is listed, the citation is a book, anthology, or edited volume.
If the word "In" is written within the citation, the citation is a book chapter.
If the volume and issue number is listed, the citation is within a journal (the volume number always comes before the issue number)
The source (book title or journal name) will always be italicized or underlined and come after the article title or chapter title.
The following images are two breakdowns of a book and journal article example in APA 6th edition citation format.
An APA 6th edition book example: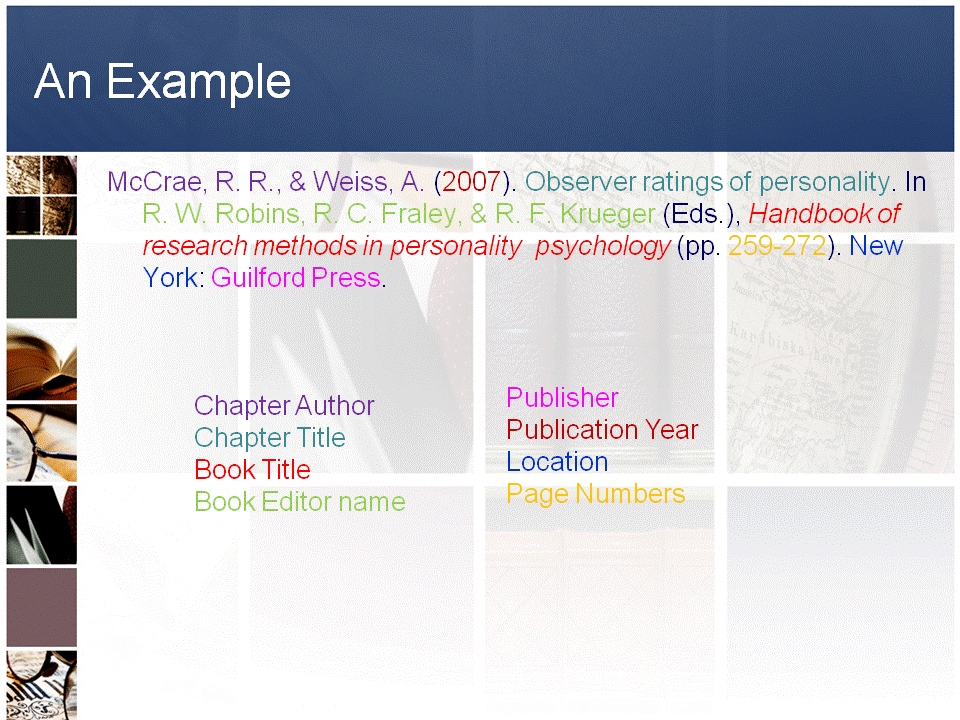 An APA 6th edition journal article example:
Librarian
Paige D
she/her/hers